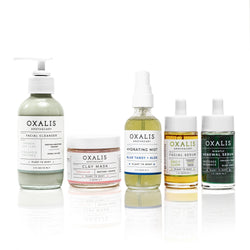 Oxalis Apothecary
COMPLETE FACE COLLECTION
OUR CORE FACE COLLECTION 
Give your skin the best care with our Complete Face Collection. Each product is packed with essential nutrients, vitamins and antioxidants to support your skin in achieving a healthy complexion. Choose Restore + Soothe (best for dry/dull skin types) or Balance + Detox (best for normal/combination skin types), both offering a gentle and effective skincare routine. Available to you at a discounted bundle price!
PRODUCTS INCLUDED
French Sea Clay + Pineapple Enzymes Facial Cleanser
Purifying and brightening daily cleanser for clear, supple skin. Massage 3-4 pumps into dry skin until absorbed. Rinse completely with water. For dryer skin, recommended usage is only at night.
Wildflower Clay Mask
French Green Clay, also known as Sea Clay, is a powerful, naturally mined clay with high absorbency and detoxifying features. Natural minerals tone and replenish cells for clearer, fresher skin.
Geranium Clay Mask
French Pink Clay softens and gently detoxifies. Natural minerals tone and replenish cells for smoother, radiant skin. Cardamom powder contains antioxidants that help resist cellular aging. Geranium oil helps to soothe and minimize breakouts. 
Rose + Neroli Toning Mist 
Spritz all over face post cleansing to balance PH, rehydrate and prep skin for serum absorption. Can also be used as a liquid base for Clay Masks.
Blue Tansy + Aloe Hydrating Mist
Boost your skin's radiance with unparalleled antioxidant and skin soothing properties. Ultra-hydrating Aloe and calming Bulgarian Lavender hydrosol replenish dehydrated skin. Pro-retinol Blueberry extract plumps and stimulates collagen production
Daily Glow Facial Serum
This serum packs cold pressed, unrefined oils with supercharged botanicals for a rich and aromatic blend that leaves skin glowing from within. Golden Jojoba and Hemp seed oils work to soothe and protect, while virgin Argan oil and Rosehip oil lock in essential vitamins and antioxidants. Pomegranate seed CO2 extract promotes elasticity for skin that feels baby-soft and deeply hydrated. 

Nightly Renewal Facial Serum
This serum deeply repairs and restores the skin with powerful antioxidants — like fatty acids and vitamins C & E — for overnight radiance. Camellia and Chia seed oil protects the skin's barrier, while Prickly Pear, Cranberry seed, and Avocado oils provide heavy-duty hydration that's lightweight and fast-absorbing, without the greasy feel. Rare Blue Tansy oil soothes the skin for ultimate overnight healing.

*Please kindly visit each individual product pages for full ingredients and how-to use.